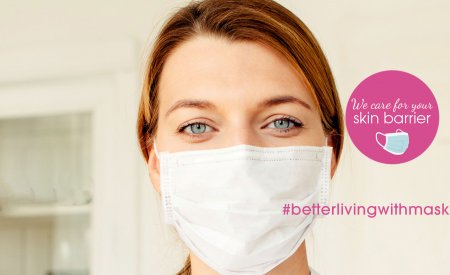 Daily advice
Living better with the mask : how to prevent side effects and protect your skin barrier
Protecting our face with a mask has become an essential gesture to fight against the spread of Covid-19 virus. 
But wearing a mask all day long can disrupt the skin barrier and lead to adverse effects : irritation, dryness, redness, itching, stinging, tightness, acne (also referred to as maskne = mask + acne) etc..
This is particularly true if you already have a sensitive or reactive skin more prone to irritation.
Mask can indeed either create unexpected skin reaction or exacerbate a preexisting skin pathology (acne, rosacea, seborrheic dermatitis, atopic dermatitis).
Please see below dermatological advice to understand why do face masks cause breakouts, how to take care of your skin barrier and prevent the side effects of wearing a mask.
Wearing a mask is now part of our everyday life and is absolutely necessary, but it leads to a real

ecobiological change in the skin

. We consider skin as a living ecosystem in permanent interaction with its environment. Yet, the skin of the face is not used to being covered by a mask. This creates a

semi-occlusive environment

that prevents natural external exchanges (humidity, UV, oxygen…).  Skin does not interact the same way with its environment: instead of being in contact with oxygenated air, the skin is now "confined " in a hot and moist environment rich in carbon dioxide (CO2) due to breathing. This semi-occlusive environment can lead to

major skin issues

linked to a humid maceration.

A Chinese study conducted on 407 health care professionals showed that 49% of them reported skin reactions on the face related to mask. Itch (14.9% of patients), erythema (12.6%) and dryness (11.6%) were the most frequent manifestations. Besides, 43.6% of patients with acne, 100% of patients with rosacea and 37.5% of patients with seborrheic dermatitis reported exacerbation of their disease1.
1

Zuo

Y, Hua W, Luo Y, et al. Skin reactions of N95 masks and medial masks among health-care personnel: A self-report questionnaire survey in China. Contact Dermatitis. (2020)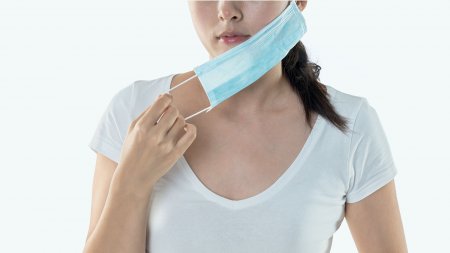 What side effects of wearing a mask can occur on your face?
Wearing a mask has been shown to induce skin barrier damages: it can either generate new reactions on the skin or exacerbate preexisting skin issues (acne, rosacea, seborrheic dermatitis, atopic dermatitis). Each skin is unique and reacts its own way.
Skin irritations
Wearing a mask generates frictions than can cause skin irritations. The skin of the face is indeed thinner and reacts badly to frictions. Speaking, coughing or even repositioning your mask creates many frictions. Depending on your skin sensitivity, repeated frictions can lead to the appearance of irritations.  Studies led by healthcare professionals report that irritations can appear on each contact area, especially on the  nose, chin and cheeks, under the eyes and behind the ears.  
Besides, mask traps dirt and impurities that can irritate the skin even more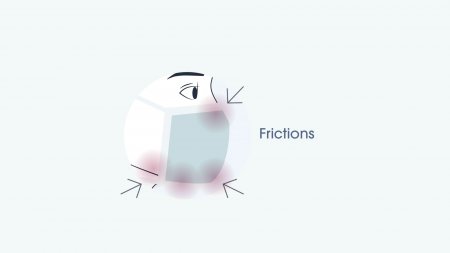 Skin concern
The occlusive effect of the mask on the skin also promotes perspiration. The association of friction and maceration can affect the skin barrier and lead to the appearance of:
- dryness or contact dermatitis
- itching
- visible redness on the friction zones (rash, rosacea)
- desquamations on the nose, cheeks and chin (seborrheic dermatitis)2.
A Chinese study showed that dryness/tightness (70.3%) and desquamation (62.2%) were the most common skin damages3.
Furthermore, a Polish study demonstrated that itching associated with the use of face mask was present in 19.6% of people, in particular people with sensitive skin and atopic predisposition4.
2

S.

Giacalone

  A. Minuti  C. B.

Spigariolo

  E.

Passoni

  G.

Nazzaro

, Facial dermatoses in the general population due to wearing of personal protective masks during the COVID‐19 pandemic: first observations after lockdown, Clinical and Experimental Dermatology (2020)
3

Lan J, Song Z, Miao X, Li H, Li Y, Dong L, Yang J, An X, Zhang Y, Yang L, Zhou N, Yang L, Li J, Cao J, Wang J, Tao J, Skin damage among healthcare workers managing coronavirus disease-2019, Journal of the American Academy of Dermatology (2020)
4

Szepietowski

JC,

Matusiak

Ł,

Szepietowska

M, et al. Face mask-induced itch: a self-questionnaire study of 2.315 responders during the COVID-19 pandemic. Acta

Derm

Venereol

. (2020)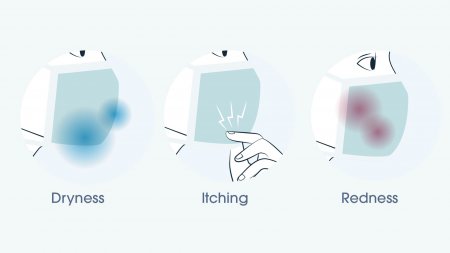 Maskne
Breathing in the mask creates heat and humidity, leading to an increase in sebum production. In this hot and moist semi-occlusive environment, the resulting sebum can easily be altered (we talk about sebum oxidation) and bacteria proliferation can occur. 
As a result, blemishes and spots can appear on your skin, mainly on the chin and jaws bilaterally, and sometimes on the nose. You might have heard about "maskne", which characterizes this typical acne induced by mask. 
Discover here our article about Maskne
A recent study led in China showed that this increased flare of acne was observed after a long time mask-wearing (>4 hours per day over two months)5.
5

Han C, Shi J, Chen Y, et al. Increased flare of acne caused by long-time mask wearing during COVID-19 pandemic among general population. Dermatol

Ther

. (2020)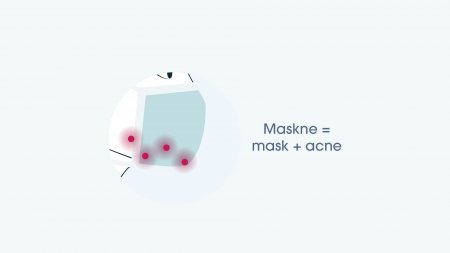 Lack of Vitamin D
Not to forget that mask-wearing also causes partial filtration of natural light. If it's good news regarding the UV rays, it is unfortunate for Vitamin D, which is synthesized by the skin and is essential for fixing calcium.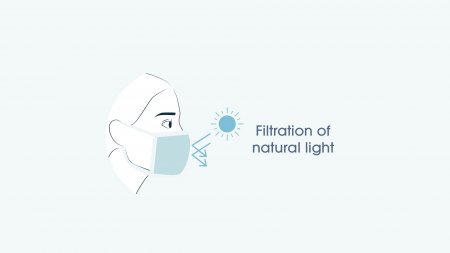 Wearing a mask generates a skin occlusion and maceration that exacerbates the irritation caused by the frictions of the mask. It creates a hot and humid environment favorable to the production of sebum and the appearance of spots (acne or inflammatory lesions).
What to do when a face mask irritates your skin? How to prevent it?
More than ever it is essential to use a high efficacy cleanser that is also gentle and protects your skin barrier.
A great way to prevent the effects of mask is by making sure you wash your face thoroughly twice a day, in the morning and in the evening, using preferably temperate water not to irritate the skin barrier even more.
This will help remove sweat and excess oil and eliminate altered sebum, impurities and dead skin cells, thus preventing potential flareups and clogged pores.
We recommend you to cleanse your face particularly with a micellar water.
Tip: Sensibio H2O micellar water removes more than 98% of makeup, pollutant particles and pollen and helps the skin to normalize its inflammatory response.
It is also very important to adopt a regular, daily skincare routine adapted to each skin sensitivity.
To protect your skin from cutaneous aggressions caused by the prolonged use of mask, dermatologists advise applying an emollient or a moisturizing cream adapted to your skin type in the morning and in the evening, preferably 30 min before wearing the mask, to allow time for skin absorption.
in the morning

, make sure to

apply a lightweight moisturizing cream

to protect your skin while limiting occlusive effect, as the skin will be exposed to the heat and humidity of the mask.

in the evening

, apply your

usual face cream
If you have sensitive or reactive skin, make sure to moisturize it in order to protect the skin from the frictions of the mask, restore the hydrolipid film and rebuild its protective skin barrier.
In case of acne or maskne, it is necessary to use acne-prone skincare formulated for sensitive skin to reduce sebum production and alteration and eliminate spots while soothing and rehydrating the skin.
Tip: In case of redness generated by the mask you can use Sensibio Light. In the case of preexisting redness exacerbated by the mask, you can use Sensibio AR. If you have acne-prone skin, Sébium Global is your best choice.
Further proof of the importance of a proper skin hygiene (in particular hand and face wash) to prevent the spread of Covid-19 virus
A recent study showed that the Covid-19 virus can survive on skin for 9 hours, versus almost 2 hours for the influenza virus6.
This provides further evidence of the importance of frequent hand washing as well as a thorough cleansing of the face (and other exposed parts of the body).
6Ryohei Hirose, Hiroshi Ikegaya, Yuji Naito, Naoto Watanabe, Takuma Yoshida, Risa Bandou, Tomo Daidoji, Yoshito Itoh, Takaaki Nakaya, Survival of SARS-CoV-2 and influenza virus on the human skin: Importance of hand hygiene in COVID-19, Clinical Infectious Diseases, ciaa1517.
See here
Choosing a type of mask that suits you best is the first step to prevent or limit skin irritations. Experts are not unanimous on the subject. There are no hard and fast rules: it depends on each sensitivity. If you have sensitive skin, it is recommended to test several masks to find the one that offers the least unpleasant sensations (itching, stinging…).
Don't forget to change your mask every 4 hours and throw it away safely using a closed bag to limit the risk of spread. If you are wearing a mask in cotton, wash it at 60° for 30 minutes at least.
And what about makeup under mask?
It is important to keep in mind that, with the occlusive effect of the mask, makeup is more likely to clog the pores and create imperfections. That's why you should favour non-occlusive makeup formulated for sensitive intolerant skin or acne-prone skin. Make sure to gently remove thoroughly face and eye makeup in the evening and cleanse your face in depth.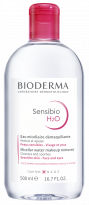 Non-rinse daily cleanser
Sensitive skin Normal skin
Micellar technology
Sensibio H2O
The original Cleansing Micellar Water. Soothes and respects the skin's balance.
For whom ?
Adults, Adolescents

Daily care
Sensitive skin
Toleridine™ patent
Sensibio Light
Soothing and moisturising care for sensitive skin.
For whom ?
Adults, Adolescents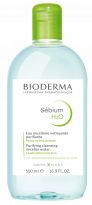 Non-rinse daily cleanser
Combination to oily skin Acne-prone skin
Micellar technology
Sébium H2O
The dermatological micellar water that cleanses, removes make-up & purifies the skin without drying it.
For whom ?
Adults, Adolescents

Rinse-off daily cleanser
Combination to oily skin
D.A.F. patent
Sébium Gel moussant
The purifying gentle cleanser that removes impurities & controls shine.
For whom ?
Adults, Adolescents

Rinse-off daily cleanser
Sensitive skin
D.A.F. patent
Sensibio Gel moussant
The soothing micellar cleansing gel which reinforces the skin's natural hydration.
For whom ?
Adults, Adolescents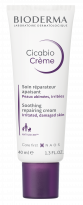 Treatment care
Irritated damaged skin
Antalgicine™ technology
Cicabio Crème
Both repairing and soothing cream.
For whom ?
For all the family (except prematures)