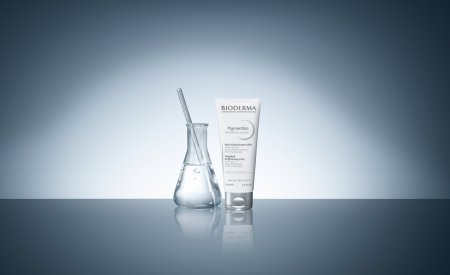 Solutions & treatments
Year-round skin care for your dark spots
Pigmentbio reduces Hyperpigmentation and illuminates skin.
Sun spots on shoulders and the neck, a mask on the face, irregular dark spots covering cheeks and the chin… Both men and women are affected by hyperpigmentation. The main forms include melasma, post-inflammatory hyperpigmentation (PIH) and lentigines.
While no more than a nuisance, you nonetheless dream of reducing your skin's discolouration! Dermatological treatment is one possibility, in the form of hydroquinone, peelings or light treatments. Care tends to be short and can be very effective, but you may also experience relapse and irritated skin. And you might feel frustrated that the results don't meet your expectations in terms of your investment.
Alternatively, you may decide not to consult a dermatologist and instead try a number of cosmetic treatments to correct your hyperpigmentation. Your skin may be irritated and the skin barrier has become sensitive after trying a variety of different products. And perhaps you see no improvement in your dark spots, either!
So how can you enjoy an even complexion and extend its glow for longer?
Pigmentbio, a range tailored to treating hyperpigmented skin on the face or body with a complete programme of products to help lighten the skin, from cleansing to care products. Lighting cleansers, intensive pigment correctors, lightening day and night care products... choose your skincare routine!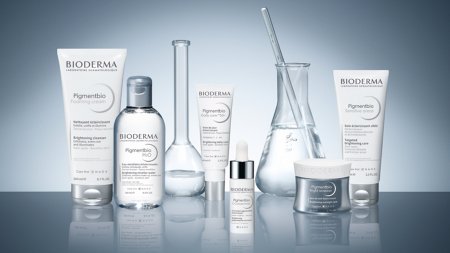 Long-term effectiveness and tolerance
As a relay treatment, or a monotherapy on its own, Pigmentbio innovates by providing a hyperpigmentation treatment that is both effective and high tolerance. You care for your hyperpigmented skin all year long, reducing discolouration and leaving your complexion in bright and healthy condition.
For optimal efficacy, LumiReveal™ Technology mimics Kligman's trio mode of action
The Kligman's trio is considered the gold standard in dermatological treatments for hyperpigmentation. It is where Laboratoire Bioderma drew inspiration to provide maximum effectiveness in reducing dark spots.
Like the Kligman's trio, LumiRevealTM  Technology acts on the three biological steps responsible for hyperpigmentation. It reduces melanin production, controls inflammation and boosts epidermal cell renewal for a finer and brighter complexion.
Following a hyperpigmentation treatment, your skin barrier may be severely altered and needs nurturing attention to return to its natural strength. Included in Pigmentbio's formulation are three essential vitamins to fortify your skin's barrier function.
Vitamins C and E are powerful antioxidants. They protect the skin from oxidative stress and prevent skin ageing.

Vitamin PP boosts cellular cohesion. By retaining water, the skin is hydrated and the barrier reinforced.
Pigmentbio offers a complete routine to treat hyperpigmentation. Products for all skin types provide day and night care as well as focused body care of dark spots. Each product targets hyperpigmentation and brings its own additional benefit.
Discover each of the key steps in your daily dark spot care.
Sensitive skin that suffers from dark spots needs a specific product that combines depigmentation with make-up removal and cleansing. Specially developed for this skin type, Pigmentbio Foaming Cream and Pigmentbio H2O are formulated with a patented combination of active ingredients that introduce care for dark spots at this first step in your daily routine. Choose between a refreshing micellar water or a generous foaming cream.
Purify skin simply
A bright micellar water inspired by Bioderma's iconic product, Pigmentbio H2O gently removes makeup and dirt on skin prone to hyperpigmentation.
Exfoliate face and body to eliminate imperfections
For daily cleansing or as a mask, Pigmentbio Foaming Cream gently exfoliates with AHA and cellulose acetate microbeads to smooth your complexion. Moisturising ingredients also form a biomimetic lipid composition, improving hydration. Skin is supple and the skin barrier remains intact.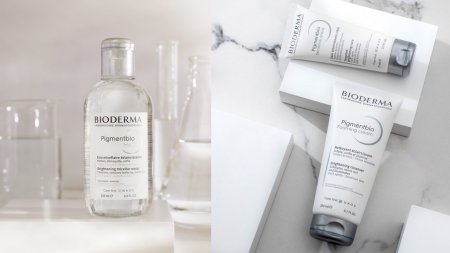 No need to apply both a hydrating cream and sunscreen. With Pigmentbio Daily Care SPF50+, you benefit from a 3-in-1 action. Your skin is protected against wide spectrum UVA and UVB rays, LumiRevealTM  Technology corrects your hyperpigmentation, and your skin is hydrated for eight hours, optimal for daily use.
Excellent as a make-up base, apply every morning on a cleansed face and neck. The pearly texture instantly illuminates your face, unifying and brightening your complexion with each passing day.
At day's end, pamper your skin with a deep replenishing treatment. A serum offers powerful hyperpigmentation correction, and a regenerating night cream acts on both discolouration and firmness. 
Start with Pigmentbio C-Concentrate's Intensive Pigmentation Correction
Pigmentbio C-Concentrate amplifies LumiRevealTM  Technology with Fresh Vitamin C to strengthen its brightening action. AHA and BHA offer a gentle peeling effect that boosts cell renewal. Rounding out this rich blend of active ingredients are vitamin E and its antioxidant power against premature ageing, and vitamin PP, to strengthen your skin and keep it hydrated. All are concentrated into a lightweight serum texture.

Fresh vitamin C's very own packaging innovation
Benefit from the full power of vitamin C! Awaiting fresh in a special canister that protects it from air and light, you activate it yourself at the first use.
Press the special canister to release the fresh vitamin C into the bottle.

Remove the lid and screw on the dropper.

Shake 10 seconds to mix.

Proven efficacy in treating dark spots
Dermatological graded assessment1 after eight weeks, one application a day:
-41% dark spot size

+87% radiance

Users agree 100%

2

that their skin texture is smoothed.
1

Dermatological graded assessment, conducted on 21 subjects presenting dark spots on the face, after daily use for 8 weeks.
2

Self-assessment, 28 days of application, 21 women

How and when to apply
Use as a monotherapy treatment or as a relay, following a dermatological treatment. Apply five drops every night on the face and neck, for one to three months.
Finish with Pigmentbio Night Renewer to refresh your skin overnight
At the golden hour, regenerate your skin thanks to Pigmentbio Night Renewer's double action. During the skin's natural nightly renewal process, LumiRevealTM Technology acts on dark spots, and a specific active ingredient boosts collagen production to improve firmness.
Dermatological graded assessment1after eight weeks:
+52% brightness

+43% elasticity
While you dream of the shining new day to come, the watery sleeping mask texture creates a protective film that retains water and optimises the ingredients' action. Your face is light and comfortable on your pillow.
Use nightly, alone or after applying Pigmentbio C-Concentrate.
You awake refreshed, brighter, firmer.
What about those other areas on your body that are also marked by discolouration…?
Knees, elbows, neck, armpits, the bikini area… Over time, friction, waxing and clothing create discolouration that you'd just rather hide – which only makes it worse!
Laboratoire Bioderma has the answer. Pigmentbio Sensitive Areas provides a unique balance between acting effectively on hyperpigmentation and providing high tolerance.
The combination of active ingredients regulates the biological mechanisms that cause hyperpigmentation, while also respecting your skin's sensitivity. With its non-greasy texture and soothing properties, apply Pigmentbio Sensitive Areas once or twice a day, even on the most delicate areas directly after you've shaved or waxed, and see your skin brighten and even out in a lasting way.
75% more even skin

2

80% soothed skin

2
 For external use only.
1

Dermatological graded assessment, conducted on 21 subjects presenting dark spots on the face, after daily use for 8 weeks.
2

Use test under dermatological and gynaecological control, conducted on 20 subjects, after daily application for four weeks.